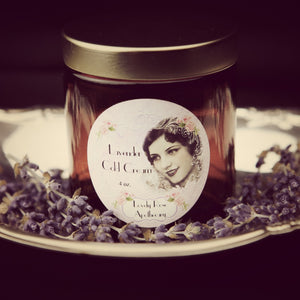 Bring indulgence back to your evening skincare routine! Our Lavender Cold Cream is based on a recipe from the 1940s and works as a makeup remover, deep cleanser, and moisturizer in one product. It's all you need in your evening beauty routine!

Lavender Cold Cream is best for:
 Sensitive Skin

Mild Acne

Normal Skin

Redness

Rosacea

Eczema

Psoriasis
We use the best quality ingredients in our Lavender Cold Cream to pamper and moisturize your skin. Created to reduce redness, clear mild blemishes, soothe irritation, and treat skin gently that tends to be a little more sensitive.
All of our Lavender Cold Cream is handmade in small batches. Use in conjunction with our Lavender Skin Tonic and Lavender Vanishing Cream in the morning and you will quickly see a reduction in redness, mild blemishes, and skin irritation. Your skin will be smoothed, soothed, softened, and beautiful! 
Ingredient Spotlight
Moringa Oil -
Rich in antioxidants including Vitamin A
It helps to improve the appearance and radiance of the skin.  
The healing properties of Moringa Oil were documented by ancient cultures.
Romans used Moringa Oil extensively in perfumery work.
Egyptians used it to help protect their skin from brutal desert conditions. 
Lavender Hydrosol -
Acts as a humectant and also helps to balance the skin.
It is antibacterial and anti-inflammatory properties can be helpful in the prevention and healing of acne.
 Sweet Almond Oil -
Effective for softening and conditioning the skin.
It is well suited for eczema, psoriasis, and itchy, dry, and inflamed skin.
Rich in essential fatty acids and vitamins A, B1, B2, B6, and E.
Is light and penetrates easily.
Essential Oils
Lavender Essential Oil
Used to treat skin irritations as well as to promote calm and ease.
Because of its antiseptic and analgesic properties, Lavender can prevent infection and promote rapid healing.
Ingredients
Ingredients - Jojoba esters, Beeswax, Sweet almond oil, Moringa oil, Lavender hydrosol, Borax, Lavender essential oil
4oz