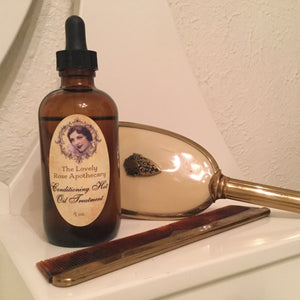 Description
It's time to makeover your haircare routine!
One popular hair care routine in the 1920s was a hot oil treatment using olive oil. Women would massage hot olive oil into their scalp the night before a shampoo. It would break up the dirt, oil, and flakes of skin clinging to the scalp. Then when they would wash, the shampoo bar (liquid shampoo didn't come out until the 1930s) would cleanse away the dirt and debris. When they would brush their hair the sebum their scalp produced would be distributed down the hair shaft creating shine. 

Our Conditioning Hot Oil Treatment is inspired by these oil treatments from the 1920s. We've included 9 scalp and hair nourishing oils and 11 essential oils to treat, moisturize and soothe your scalp and soften and add shine to your hair!
Our Conditioning Hot Oil Treatment is made in small batches. Used weekly you will see a soothed, conditioned scalp and soft smoothed, shiny hair. 
Ingredient Spotlight
Shea Oil
Promotes healthy hair by nourishing the hair shaft and conditioning dry and distressed hair.
Broccoli Seed Oil
Is a natural alternative to silicon in shampoos, conditioners, and styling products.
Erucic acid is an Omega-9 fatty acid that is useful for imparting a silicone-like sheen to hair.
Castor Oil
Restores moisture balance to dry, brittle and damaged hair.
Leaves hair shiny and manageable.
Is a rich, emollient oil for dry, chapped skin on the scalp.
Ungurahui Oil
Is a superior emollient, possessing a noteworthy array of essential fatty acids, sterols, and amino acids.
It is heralded for its ability to nourish the hair and scalp.
The oil's high absorption capacity allows it to easily penetrate the hair shaft, saturating and strengthening the hair's cortex while simultaneously restoring the natural oil balance of the shaft itself.
Maracuja Oil
Is a superior emollient that is heralded for its light, non-greasy texture, rapid absorption, and fatty acid composition including Omega-3 and Omega-6 essential fatty acids.
Encourages healthy hair growth and increased vitality.
Pracaxi Oil
Delivers intense hydration
Enhances smoothness
Promotes shine 
Helps detangle the hair
Meadowfoam Seed Oil
It helps moisturize and soothe the hair and scalp.
It also helps to restore dull and damaged hair
Provides natural shine.
Mafura Oil 
The oil serves as a remarkable conditioner and moisturizer.
It helps to restore the vitality of lifeless hair and strengthens dry, brittle, and damaged hair. 
Improves the condition of the scalp. 
Serves as a remarkable conditioner for African and African American hair and all hair types that benefit from significant hydration.
Amla Oil

Possesses an impressive reputation for its efficacy in nourishing the scalp, conditioning dry and brittle hair, and for promoting strong, healthy, and shiny hair.
Especially well suited for use in conditioning curly, wavy, textured, and all hair types that benefit from significant hydration.
It also helps to dramatically soothe and moisturize the scalp and assist with dry and problem scalp concerns.
Helps support natural, healthy hair growth and provides exceptional conditioning to the hair and scalp when used as a hot oil treatment.
Essential Oils
Lavender Essential Oil
Moisturizes the scalp and balances sebum production. It is ideal for people who have a mixed type of scalp, for example, oily near the forehead and at the back of the head, but dry at other parts.
Its powerful antiseptic and antimicrobial action make it excellent for controlling dandruff and scalp acne complicated by fungal or bacterial infections.
Rosemary Essential Oil
Has anti-dandruff action. It tones down the action of sebum glands and clears up clogged pores that cause acne and itchy scalp.
Regular use of rosemary oil ensures healthy, strong, non-greasy hair.
Chamomile Essential Oil
Conditions the hair and protects it from the damage inflicted by environmental pollutants.
Cedarwood Essential Oil
Balances the oil secretion of the sebaceous glands; hence, it is equally beneficial for a dry or oily scalp.
The warm oil improves blood circulation and stimulates the hair follicles, resulting in vigorous hair growth. Its antiseptic action helps control bacterial and fungal problems, including dandruff.
Clary Sage Essential Oil
When applied to the scalp, clary sage oil regulates oil production and controls dandruff.
It can be used for both dry and oily scalps but is extremely useful for dry scalp and hair.
You can use it on curly and frizzy hair to make it more manageable.
Thyme Essential Oil
Its excellent antimicrobial action helps resolve many scalp problems, including dandruff.
Lemon Essential Oil
It is antiseptic and antimicrobial, helping to resolve secondary infections that often complicate acne and dandruff.
Peppermint Essential Oil
When applied on the skin, it improves blood flow to the area.
This property is very useful for rejuvenating hair follicles and promoting hair growth. Its cleansing action opens up clogged pores and encourages the normal flow of skin oils, making it ideal for people with dry scalp.
It also helps control dandruff associated with dry skin.
Patchouli Essential Oil
Its anti-inflammatory and antiseptic properties make it excellent for treating many skin and scalp problems.
People with eczema, dandruff, and dermatitis can greatly benefit from this essential oil because these problems are often the underlying causes of hair loss.
Tea Tree Essential Oil
Works deep into the hair follicles, unclogging them and helping with the normal flow of the skin oils.
It is also known for its antimicrobial action, which helps resolve fungal infections as well as scalp acne complicated by secondary bacterial growths.
It is considered the number one remedy for dandruff. It moisturizes the scalp and relieves dryness and itching.
Vetiver Essential Oil
Is a sweet-smelling oil with a cooling effect. 
It helps reduce hair loss resulting from excessive heat in the body.
High-stress levels also may cause premature balding and graying. The calming and soothing effect of vetiver oil cools the mind and body, reducing stress.
It has excellent antioxidant action to prevent premature aging of hair follicles due to free radical damage.
Instructions for Use
After heating the oil in a mug of hot water use the dropper to saturate the hair and scalp with oil.  Leave on for at least 1-2 hours (preferably all day or overnight) to allow the oil to penetrate and work its magic. After treatment thoroughly cleanse the hair removing all traces of conditioning oil.
Ingredients
Ingredients: Shea oil, Broccoli seed oil, Castor oil, Ungurahui oil, Maracuja (passion fruit) oil, Pracaxi oil, Meadowfoam seed oil, Mafura oil, Amla oil, Essential Oils of: Spanish rosemary, Roman chamomile, Clary sage, Thyme, Peppermint, Patchouli, Vetiver, Cedarwood, Lavender, Tea tree, Lemon.