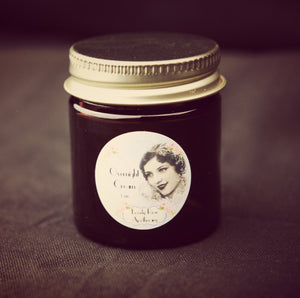 Our Overnight Cream is a very rich night cream for use in the evenings after the Cold Cream of your choice. Our cold creams are meant to be used as a makeup remover, cleanser, and moisturizer in one product but sometimes your skin may need a little more moisture if it is very dry.
This Overnight Cream is full of oils and hydrosols that help with deep moisture, anti-aging, and fading of hyperpigmentation. However, it won't cause you to breakout! It actually has oils that can help to clear your skin. This is great it if you have acne but also very dry skin.
We promise if you use just a tiny bit before bed you will wake up with the softest, smoothest skin you have ever had!
Overnight Cream is best for:
VERY dry skin
We use the very best ingredients in our Overnight Cream to pamper and deeply moisturize your skin. It's the best night cream you've ever used. Created to smooth, and soften even the driest skin, you can even use it on your heels and elbows!
All of our Overnight Cream is hand made in small batches. Use in conjunction with the best Cold Cream for your skin type and you will see soft, smooth skin overnight!
Ingredient Spotlight
Avocado oil
Contains Vitamins A and E and promotes natural collagen production and works to improve the skin's tone and texture.
Together with potassium and sterolins, these nutrients encourage epidermal cell turnover.
An ideal treatment for damaged skin cells (burns, scars) and a range of skin conditions that include eczema and psoriasis.
Baobab oil
Is especially rich in Vitamin E, Vitamin A, and sterols.
It is highly emollient, helps maintain radiant, supple skin, supports skin elasticity and minimizes the appearance of wrinkles and fine lines.
The significant level of fatty acids contributes to the oil's effectiveness when used to soothe and nourish dry and problem skin.
Buriti fruit oil
Possesses the remarkable ability to nourish, moisturize and repair the epidermis and improve the elasticity of maturing skin.
It is highly beneficial in formulations intended to treat and heal burns and sun damaged skin.
Has strong antioxidant properties and protects the skin from free radical damage.
Camellia seed oil
Is a nutritive cosmeceutical oil that is said to be the ancient beauty secret of the geishas.
Cranberry seed oil
Easily penetrates the skin and is highly moisturizing.
It is rich in Vitamin E and other antioxidants.
Testing indicates that Cranberry Seed Oil possesses the highest quantity of Vitamin E of any vegetable oil.
It possesses a unique balance of Omega 3, 6 and 9 essential fatty acids not found in other oils.
Cranberry Oil can aid in the relief of itchy, scaly, irritated skin conditions such as eczema and psoriasis.
Cranberry Seed Oil also contains a significant amount of Vitamin A, making it a good choice for inclusion within blends for acne or blemished skin.
Abyssinian seed oil
It hydrates and plumps the skin while balancing the tone and texture.
Carrot Seed Oil -
Helps to promote the growth of healthy new skin cells.
Aloe Vera Hydrosol
Is known for its ability to heal and moisturize the skin.
Chamomile Hydrosol
Anti Inflammatory, Anti Bacterial, and Antiseptic.

Improves elasticity of skin

Soothes red irritated skin, reduces puffiness

Helps with dark circles under the eyes.

It is beneficial for allergic and hypersensitive skin as well as eczema.

Also great for Eczema, Psoriasis, itching.
Cucumber hydrosol
Used for toning, tightening and firming skin.
Ingredients
Ingredients: Aloe vera hydrosol, Chamomile hydrosol, Cucumber hydrosol, Beeswax, Avocado oil, Baobab oil, Buriti fruit oil, Camellia seed oil, Cranberry seed oil, Evening primrose oil, Strawberry seed oil, Carrot seed oil, Abyssinian seed oil, Grape seed oil, Shea butter, Vitamin e, Organic soy lecithin

1oz